For over 40 years, we have been providing bicycles for adults and children in Northeast Kansas, and we have enjoyed being your bike shop for so many years. When you buy a bike at The Pathfinder, you know it is from one of the top bicycle companies in the industry, and that is has been built to the manufacturer's standards by trained bike mechanics. From your test ride on, we want to make sure your bike fits you correctly, is properly adjusted, and is working well. In addition to your purchase, you'll receive free labor on your first flat tire, and a free "first tune-up" so that we can help you make any adjustments that are needed in the first few months of your bike's life. The way we see it, once you've bought a bike at The Pathfinder, you're part of our family!
Road Bikes | Hybrid Bikes | Mountain Bikes | Gravel/Adventure Bikes | Comfort Bikes | Kids Bikes | Recumbents/Electric-Assist/Adult Trikes | Exercisers | Joggers/Trailers | Used Bikes/Trade-ins
Road Bikes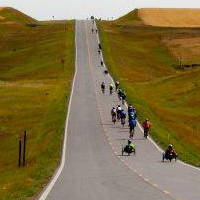 Cyclists who enjoy long-distance riding on paved roads are looking for a light, efficient bicycle that will perform at its best while they log many miles. We stock several styles and models of Specialized, Jamis, and Felt road bikes for both men and women, starting around $700. There are several styles of road bikes including those for road racing, endurance riding, cyclocross racing, and touring, and we can help you decide which style is right for you. We can also order a bike if we don't have your perfect bike in stock. In addition, Dave is a certified BG Fit specialist, and will help you customize your bike so that it maximizes comfort, efficiency and performance.
Hybrid Bikes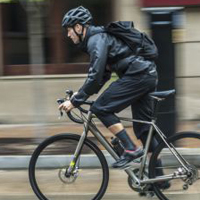 The hybrid bike category encompasses an expansive range of bicycle styles covering widely varying types of riding. Hybrids generally have a 700c wheel and tire that are wider than road tires and wheels, but not as wide and heavy as mountain bike wheel/tire combinations. The most common hybrid bikes are designed to be used on pavement or smooth trails like our Linear Park. Often these hybrids are referred to as urban or commuter bikes. Another category of hybrid bike is what is often called dual sport bikes. These bicycles are close cousins to mountain bikes, but lighter and faster on pavement than their mountain bike cousins. Other hybrid styles can also be categorized as comfort bikes and adventure bikes, which we discuss below. In short, if you are not looking for a long distance road bike, or a fully capable dirt riding bike, then you are probably looking for some form of hybrid bike.
Mountain Bikes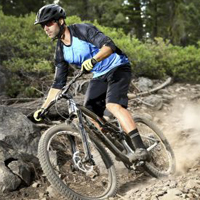 For tearing around in the dirt, nothing beats a mountain bike. Whether you are an avid travel-the-country mountain biker, or a weekend warrior looking to tackle the local singletrack, there is a bike made for you. From simple, entry-level hardtails to exotic full-suspension rigs, we can help you sort out the pros and cons of all the different wheel sizes, geometries and suspension designs.
Gravel/Adventure Bikes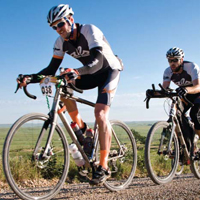 The Flint Hills have some of the premier gravel riding opportunities in the country. If you want in on the action, then come talk to us. Gravel bikes can be mountain bikes or dual sport bikes, but there is a growing selection of bikes made with gravel specifically in mind, like the Salsa Warbird. Cyclocross and touring bikes can also make great gravel road bikes with a tire change.
Comfort Bikes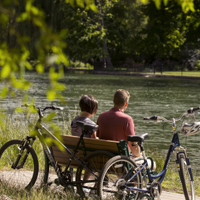 All bikes should be comfortable, right? But some are more comfortable than others. If you want a bike for running errands, cruising around the park, commuting or just having fun and getting a little exercise, but it must combine comfort and efficiency, then a Comfort Bike is for you. These bikes have active suspension features for a smooth ride, a seating position that allows one's feet to reach the ground, and handlebars that adjust to you. More efficient than a cruiser, more comfortable than a typical mountain or hybrid bike, comfort bikes will put a smile on your face while you spin around town. They come in traditional frame designs as well as low step through designs. For a perfect example of this style of bike, check out the Specialized Expedition.
Kids Bikes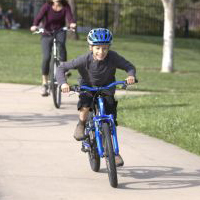 Why buy your kids' bikes from The Pathfinder? First, our mechanics build the bikes, so they start out working properly and you don't have to read any instruction manuals. Second, our kids' bikes are strong, tough, and can withstand your kids' riding. Third, when you buy a bike at The Pathfinder you get a free tune-up anytime within the first year of ownership. Finally, there's our Trade-In program. Bring in your kid's bike after they outgrow it, and we'll give you some trade-in value toward the purchase of a new bike. And if you are interested in a quality used kid's bike, we usually have a good selection of trade-ins.
Recumbents, Electric-Assist, Adult Trikes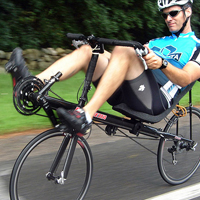 A traditional bike isn't working for you? Many cyclists would like additional assistance on their bicycles, in the form of electric power, back support or additional wheels for balance. If this sounds familiar, come in and let us show you some of the options we have to make bicycling more comfortable for you. For example, we would love to show you our BionX electric-assist bicycle, which boosts your pedaling with extra power, to help you on the hills or keep you on pace with your fellow riders. Come in for a test ride!

Exercisers
Contact us for current models of exercisers we have in stock.
Joggers, Trailers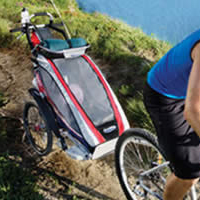 Parents who want to continue running and bicycling with their children in tow will appreciate the quality of the joggers and trailers we keep in stock. We have both single and double joggers. We carry a variety of trailers including those that convert into strollers or joggers. We also stock pedal trailers (a.k.a. trail-a-bikes) which can convert your bicycle into a tandem so your child can ride along with you.

Used Bikes, Trade-Ins
The Pathfinder is no longer accepting used adult bikes for trade in. We do still acccept used kids bikes for trade in. If you have a kids bicycle you would like to trade in for credit toward a new bike, we prefer Specialized or another bike shop quality brand. Bring in your bike to be evaluated for its value toward your purchase.