Our full-service bike repair shop has been fixing Manhattan's bicycles for four decades, and we have enjoyed keeping you and your bikes on the road. Whether you just need basic adjustments on your beloved bike, you want to spruce up your bike for spring riding, or you need to give a well-used bike a full overhaul, we can provide the service to keep you rolling. We will give you an estimate of the expected costs before we start working. How long will it take? This varies greatly by season – in the spring and summer, our bike shop gets very busy, and we'll get you worked in as soon as we can. Fall and winter are great times to get your bikes in for annual checkups, as the shop is less crowded in the offseason. If you can't live without your bike for long, call us and make an appointment – you can bring it in early in the day and we'll finish it by the afternoon. Of course, all repairs can be slowed down if you need replacement parts that we'll need to order. However, we keep an extensive selection of basic repair parts in stock and over 95% of our repairs are handled without having to order additional parts.
Flat Tires | Tune-Ups | Other Repairs | Shipping Bikes
Flat Tires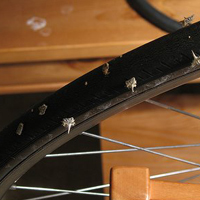 The most common bike ailment is the flat tire. Come get your tube replaced in our bike repair shop. Save some cash if you just bring the wheel (instead of the whole bike). We'd also be happy to talk with you about the different ways you can decrease the likelihood of flat tires in the future, and we can show you how to change your flats yourself. We always strive to fix flats while you wait.
Tune-ups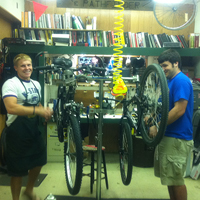 Almost all shops offer an array of tune-ups which are presented as providing the best deal. Well, that is not necessarily true. That is why they are often packaged with clever names, appealing to the more impulsive parts of your brain. Bike shops like promoting tune-ups because in many cases your bike does not need all of the services provided by the tune-up, which is to say you are probably paying for more than you need. The Pathfinder philosophy is to provide you with the best value. If your bike needs virtually every part adjusted, then a tune-up may be the way to go. However, we find most of the time that by checking the bike over and identifying exactly what needs to be fixed, we can offer you a better price than if we performed a complete tune-up. Our Basic Tune-Up includes: adjusting front & rear derailleurs (gears), adjusting front & rear brakes, lubing the chain and cables, airing tires, and a light cleaning. The labor charge for a basic tune-up is $48, which does not include any parts needed in the course of the repairs. More extensive tune-up and overhaul packages are also available. But again, we prefer to look at your bike's specific issues and your needs in order to come up with the best possible bang for your buck.
Other repairs
Bike's not working right? Bring it in for our bike shop to take a look. We'll identify the problem and call you with the estimated cost. Click here for a full list of bike repair rates.
Shipping bikes
If you need to ship your bike, we can disassemble and box it up to be safe to ship. Likewise, we can build your bike if you have it shipped to you. Costs for these services will range from $40.00 to $100.00 depending on the bike and the level of dis-assembly/assembly required.