Last week, the route was announced for this year's Biking Across Kansas, and we were excited to see Manhattan on the route for the first time in many years! The ride takes place June 7-14, and this year's route runs a diagonal from southwest Kansas (Elkhart) to Northeast Kansas (White Cloud). Riders will overnight in Elkhart, Satanta, Spearville, Ellinwood, Salina, Wamego, Oskaloosa and Hiawatha. Registration is limited to 800 bicyclists, and is already closed (yes, it filled in just a few days!) but you can sign up on the wait list at bak.org – or you can participate as a SAG (support) volunteer.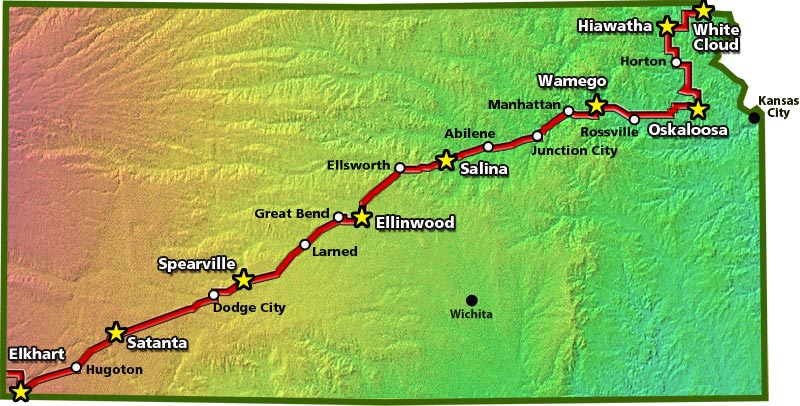 Manhattan will see BAK cyclists coming through town on Wednesday, June 11, as they travel from Salina to Wamego. Keep alert for future information about how Manhattan will welcome these cyclists in our community.
This is the 40th year of the BAK, which is proud of its role as an eight-day bicycle tour across the state of Kansas to promote health and wellness through bicycling, the history and beauty of the Kansas landscape, and the warm hospitality of the Kansas towns and people. BAK is not a race or test of stamina; but a recreational and social rally for cyclists.
The BAK website has some wonderful information about the history of the event, which was launched in June of 1975 by avid cyclists Larry and Normal Christie of Wichita. Though the event has seen some changes over the years (including multiple routes for a few years in the 1980s) it has consistently been a popular way to celebrate the beauty of the state of Kansas and the enjoyment of bicycling.