The 2016 route for Biking Across Kansas has been announced!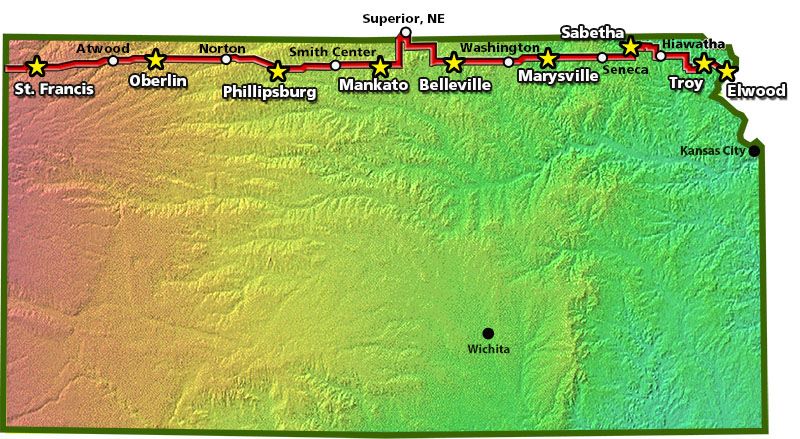 The route will begin in St. Francis on June 4th and end in Elwood on June 11th. There will be overnight stops in the towns of Oberlin, Phillipsburg, Mankato, Belleville, Marysville, Sabetha, and Troy. An added bonus of the northern route is the optional opportunity for cyclists to ride a century on a Nebraska Loop to explore a few roads and towns of southern Nebraska! The route will take cyclists through the new BAK overnight town of Oberlin and will be returning to many of the other towns for the first time since the 2000 and 2008 trips.
BAK is excited to announce that there will be bands for evening entertainment in at least four towns this year, along with other attractions provided at each stop. There is also the opportunity for cyclists to help local churches, schools, boy and girl scout troops, and more by eating their meals at community food stands. BAK is a fantastic way for small towns in Kansas to raise funds to support their community.
The Pathfinder will be holding a meet and greet event for riders in the area to get to know each other, ask questions, and get advice from veteran BAK riders. Stay tuned for more information on the date and time, usually held toward the end of May. Of course, feel free to stop by the store and talk to staff ahead of time about gear, training plans, and more!
For more information on the trip visit BAK's website!