Advice from Dave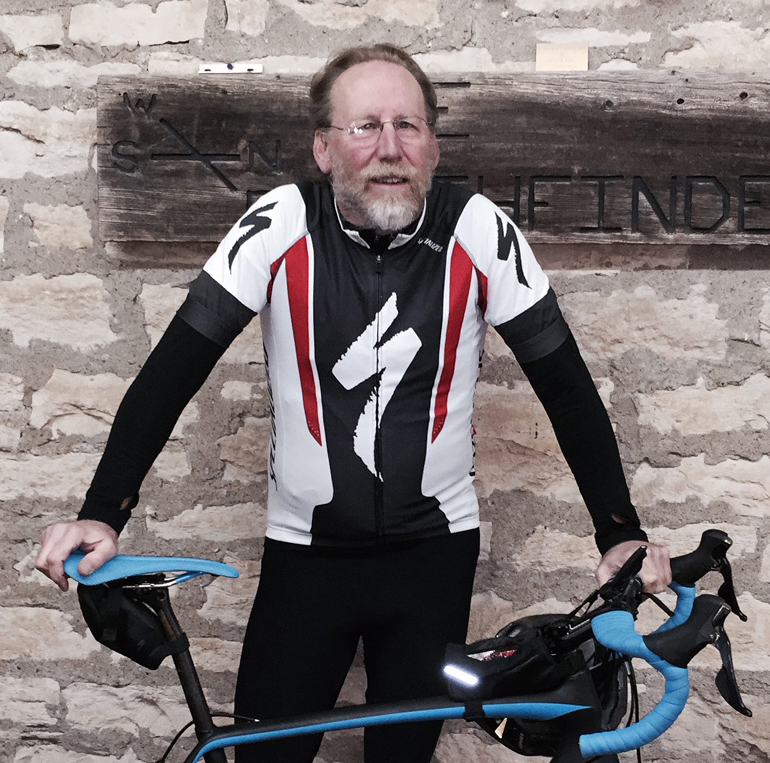 Dave has been at The Pathfinder for over 35 years and has been bicycling for many more years than that! Here are some pearls of wisdom from his years of experience.
Dressing for fall and winter cycling can be a challenge, but the winter vistas, redtail hawks, fresh air and benefits of being outdoors make it well worth your effort. Everybody has a temperature threshold below which it just is not worth the hassle and discomfort. If we can take the discomfort out of the equation while systematizing the getting ready part, we may be able to keep you outside for more of the fall and winter.
Here is the wardrobe I use by temperature range, but first, some qualifications. I am pretty warm blooded and I ride hard enough to keep my heart rate at between 80 to 90% of max, so you may have to adjust my temperature range based on your personal metabolism and riding effort. The other variables to consider are wind and cloud cover. Strong breezes and/or cloud cover can make riding feel a good ten degrees cooler than what the thermometer reads. I will call this the SWF (Sun Wind factor) going forward. My riding is mostly road riding and thus I do not like loose, floppy clothing. Acquiring clothing that is form fitting, stretchy, warm, plus wind and water-repellent can run into some serious money. If you are riding more casually, or just don't care about things flapping in the breeze, you can probably use a lot of the clothing that is already in your closet. Keep a log of what works and what does not in a given situation.
Even in warm conditions, in addition to a jersey and shorts, I always wear arm sleeves and a beanie under my helmet for UV protection. I also always wear good wool socks for the cushioning. These items help me stay warmer as temperatures drop below sixty. When the temperature is supposed to be below (and stay below) fifty, I will add either knee warmers or light tights. At around fifty and down to about forty I will then add windproof long finger gloves and a thin base layer under my jersey. And then, depending upon the SWF, I might also wear a light vest or jacket. This is where a cycling-specific jacket with zip-off sleeves really comes in handy.
As the temperature starts to go below forty, things get more challenging. For my core, I prefer a base Iayer with a heavy jersey, and then a light vest or jacket stuffed in the jersey pocket, just in case. On my legs I may switch to heavier tights depending on the SWF. For my hands, I either put liners into my gloves or switch to gloves that are insulated as well as windproof. On top, I wear an insulating beanie under my helmet or a windproof helmet cover. Finally, on my feet, I go to heavier wool socks and maybe shoe covers, again depending upon the SWF.
As the temperature drops below 30, it is time for some serious clothing upgrades. On my core, a base layer, heavy jersey and jacket or base layer, light jersey and soft shell jacket. On my legs, I prefer windproof soft shell tights over my shorts. On my hands, heavier insulated gloves (I use ski gloves) or liners under my insulated bike gloves. I wear an insulated beanie and a helmet cover up top, and maybe a neck warmer, in particular one that you can pull up over your face if needed. On my feet, I use the heaviest wool socks I can fit in my shoes and an insulated shoe cover. I just started using the Specialized Defroster Road shoes this winter and they are wonderfully warm, as they should be for $200. But they are easier to put on and take off and are more reliably warm and dry than a shoe cover over a ventilated shoe.
Below twenty degrees, I go to a heavier base layer on my torso and legs and a heavy jersey under a softshell jacket. For the hands, I use liners in my heaviest gloves. On top, I will add full face protection, like a balaclava, to what I have already been wearing. And on my feet, this winter I will be using insulated shoes.
Below ten degrees is really challenging. I start doing all sorts of layering, such as a windshell jacket over a softshell jacket, wind pants over softshell tights and liner gloves inside of winter gloves inside of overmitts.
If you're interested in upgrading your gear and wardrobe in order to keep cycling in colder conditions this winter, come in and take a look at some of your options. We're all happy to visit with you about where to start.