Dave and his NEW BIKE: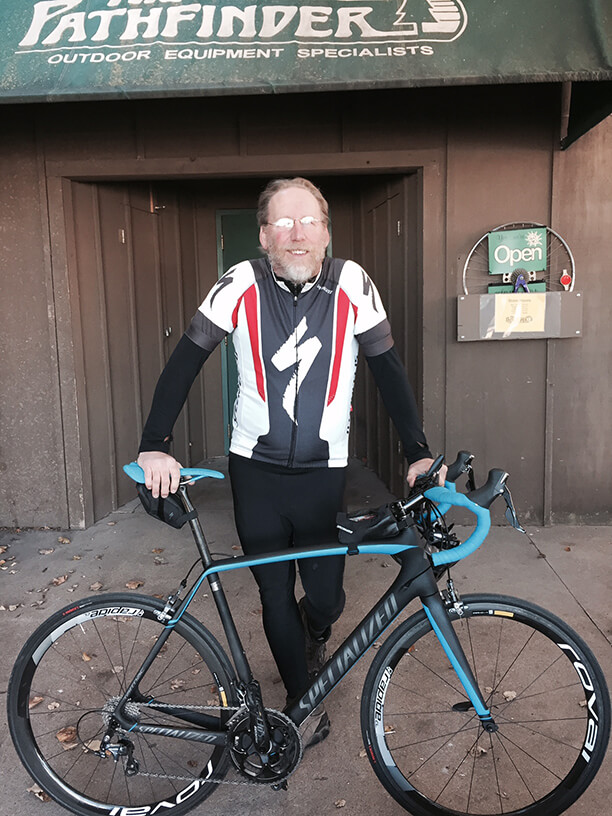 Despite the fact that I have worked in a bike shop for over three decades, I do not often buy a new bicycle. Once I get a frame that I like, I tend to upgrade the parts over time, rather than periodically buying a whole new bike. Or I take my parts and put them onto a new frame. This fall, though, I bought an entirely new bicycle.
For over a year I had been considering what I would get if the circumstances were right. Being primarily a road cyclist, I have been closely watching the development of aero road bikes the last few years. These are bikes that attempt to cheat the wind like a time trial/triathlon bike while maintaining traditional road bike geometry and riding position. Because of advances in carbon fiber materials, engineering and construction methods, aero road bikes are faster and lighter than ever. Usually, however, there is some sacrifice in ride quality and/or weight due to the aerodynamic shaping. Ride quality is a top priority for me, so I eventually decided to steer away from an aero bike.
An endurance bike would have been the logical choice given my age and riding style, but once a racer, always a racer. I have been riding a second generation Specialized Tarmac race frame for some time now. The Tarmac is a pure race bike made out of carbon fiber. Racing bikes put a priority on performance, so comfort and stability are often sacrificed in the name of stiffness and quick handling. I found my old Tarmac's handling to be nothing short of perfect, responsive and precise, while still stable and predictable. And the ride comfort has always been sufficient. The third, fourth and fifth generation Tarmacs that came after mine followed the general trend in the bike industry of continuing to get lighter and stiffer with each new iteration, to the point that I found them to be too stiff for my tastes.
Specialized released what is essentially the sixth generation Tarmac this fall, calling it "Rider Engineered." One of the features Specialized claimed was a more comfortable ride. Since I wanted to stay on a race bike, I decided to research the new Tarmac. The reviews I read online from publications such as Bike Radar, Bicycling and Velo News indicated that the new Tarmac was improved in a variety of ways, but most important to me was that many of the reviews noted an improvement in comfort. Despite these claims, I was still a little concerned that buying a Thoroughbred racing bike might not be the right call for my less than youthful body.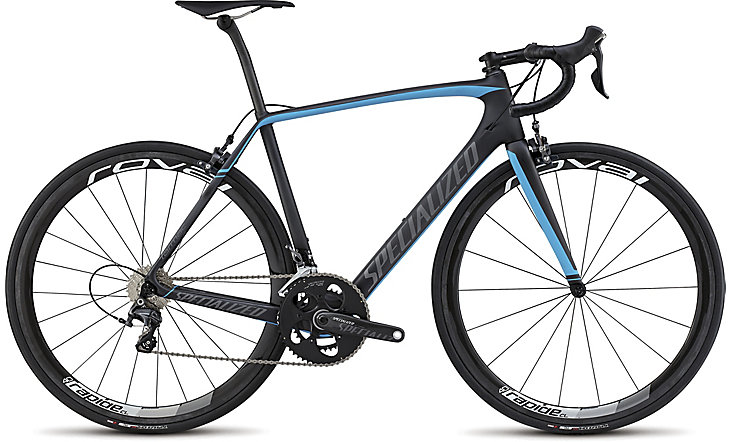 In the end, I rolled the dice and bought the new "Rider Engineered" Tarmac Pro Race. Fortunately, the reviews, and the claims made by Specialized, were spot on. My new Tarmac is indeed more comfortable than my old Tarmac, while also being lighter, stiffer under acceleration and climbing, plus it is the most ridiculously fun bike to corner that I have ever ridden. These are the ride qualities that carbon fiber is supposed to bring to the bicycle frame, qualities which engineers just can't quite achieve with metals. The improvements are subtle, yet profound.
I now have over 2,500 miles on my Tarmac. It continues to amaze, motivate and impress me. Having been purchased in October, the vast majority of those miles I have been ridden have been in less than ideal conditions. The bike is so fun to ride, however, that it takes a really nasty day to keep me from riding. One cannot ask any more of a bike than to be reliable, comfortable and to exceed one's expectations. My Tarmac achieves all of that.
Dave Colburn has been the manager of The Pathfinder for over 30 years. He has over 40 years of cycling experience of all types and loves to talk cycling! Come in and learn more about Dave's favorite bikes.