News from the Bike Shop

By Dave Colburn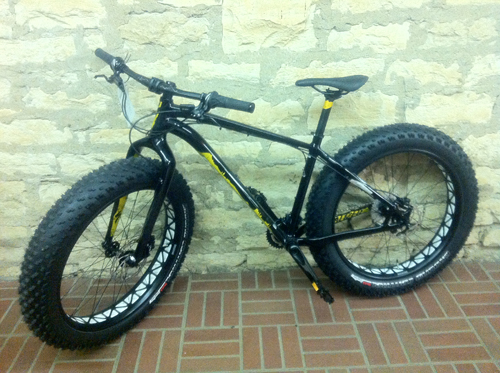 We recently got in a Specialized Fatboy and it is generating a lot of interest and questions. If you have not seen a fat bike in person, you should come by and check it out. The most commonly asked questions are:
Q — What is it for?
A — Having fun! The first time I hopped on the Fatboy I was instantly taken back to my grade school days and what it felt like to blast around on my Schwinn Stingray.
Q — Is it heavy?
A — Surprisingly it is not as heavy as it looks, thanks to a lot of sophisticated engineering and design work.
Q — Why are the tires so big?
A — The wide tires float on soft surfaces like snow and sand. They provide cushioning without using suspension. They provide unparalleled traction.
Here is what one reviewer from Bicycle magazine had to say about the Fatboy.
"Fat bikes are made to glide over snow and ice, but I found the Fat Boy to be equally capable on sand and singletrack—after I adjusted my riding style. I stopped picking a line and let the 4.6-inch-wide tires float me over rocks and roots. Better still, I could explore new terrain, like the bank of a stream or a sandy wash. I had expected the big tires to feel sluggish, but the lightweight carbon fork made it easy to loft the front wheel over obstacles. The bike felt agile, even when I rode it on twisty trails at home in Pennsylvania. The big wheels slowed the steering, but added stability and let me drift through corners—a fun sensation no matter what kind of terrain I was riding."
—Mike Yozell
Fat bikes are not for everyone, but they open up new terrain for anyone who hops on one. For the novice mountain biker, trails that were too technical or intimidating are now doable on a fat bike. The wide tires with virtually unlimited traction inspire confidence and provide needed stability. For the experienced mountain biker, trails that were too rutted or rocky to overcome are now manageable and places without trails become accessible.
Come take the Fatboy for a spin!