You say not everyone on your Christmas list thinks backcountry treks covering 10 miles a day (minimum!) are an ideal vacation? Don't forget we have perfect gifts for indoors-y people, too.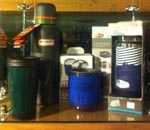 For example, a coffee press that turns into an insulated travel mug is super around the campfire, but also ideal for anyone who likes their coffee on the go. In fact, a good coffee thermos is a must-have for any coffee-loving household, indoors or out.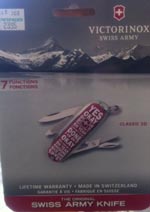 Another must-have item for any household (or person) is a Classic Swiss Army knife. The tiny & sharp scissors in this tiny & sharp knife are perfect for a variety of uses, including cutting those pesky bows off your gifts on Christmas morning! (Honestly, don't we all ask "who's got a knife?" when we're opening packages?) We have some new fun patterns this year, too, including this one which can be used to make decisions, too. (Yes on one side, No on the other.)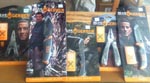 If that knife is too tiny for the tough guys on your list, get them a knife or tool from Gerber's Bear Grylls series. No, they may not ever find themselves stranded in the wild, miles from civilization – but they watch it on TV! And the tools actually have indoor uses too.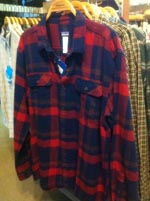 And, of course, you don't have to be on Everest to appreciate warm clothing. A cozy flannel shirt, warm fleece vest, SmartWool socks, a wool Tilley hat, or a pair of slippers are a welcome gift to anyone in Kansas (or anywhere else that recognizes Winter).