The fastest-growing trend in bicycling nationwide is gravel riding, also known as gravel grinding — it can be a long-distance ride for adventure and endurance, a shorter ride for fun & fitness, or an organized gravel race like the popular Dirty Kanza 200 race.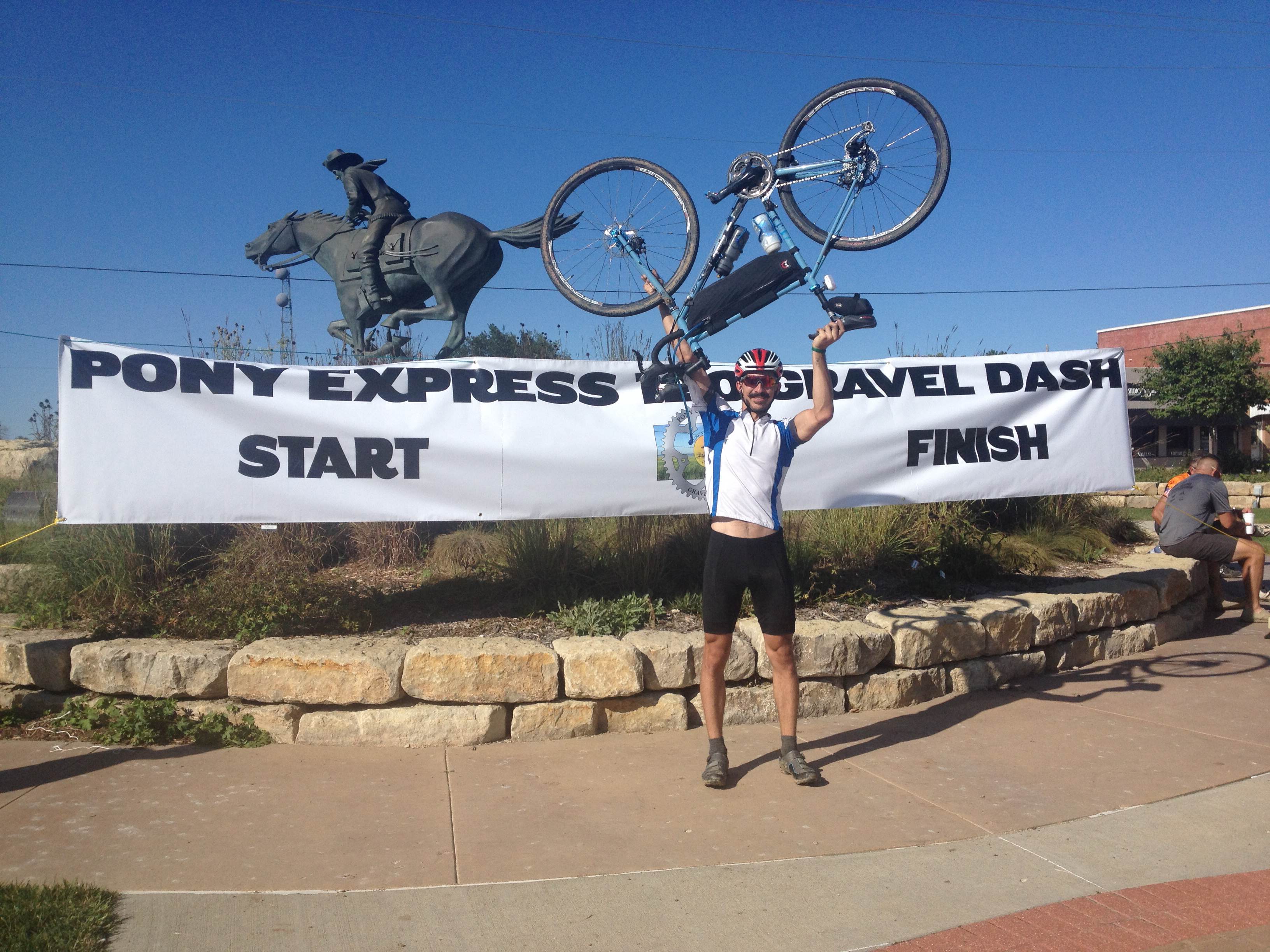 Gravel grinding could be just a ride on the Linear Trail, that's the right type of surface – i.e. not paved. More typically, however, gravel rides are out on country roads. That can mean just you, and maybe a few friends, going a few miles on a road near town. The gravel rides and races one hears about most often are those with an endurance aspect – 65, 100 or even 200 miles. There are a number of organized gravel rides in northeast Kansas. Check out the Kansas Cyclist website (www.kansascyclist.com) for all of the opportunities. (For example, as pictured, the Pony Express Gravel Dash 120, which The Pathfinder sponsored last fall. It's a 120-mile gravel race near Marysville.) But one need not let the predominance of those ultra-endurance events scare oneself away from gravel riding. Five, ten or fifteen miles of gravel road riding out around Pillsbury Crossing can make for an invigorating experience.
Gravel riding appeals to many because it means getting off the beaten path, seeking roads with less traffic that involve some exploration and creating your own route. And this is why Kansas is a hotbed of gravel riding locales — we have so many well-maintained gravel roads that have a nice blend of hills and flat areas and can be very scenic. In fact, many local bicyclists have been gravel grinding for years, there just wasn't a name for it in the bike world.
The bike industry has also responded to the enthusiasm for gravel riding by offering great bike options for gravel. The key features of a good gravel bike include road style 'drop' handlebars, mid-width tires, about 32-42 mm (in between road bike tires and mountain bike tires), and a frame that can absorb or dampen vibrations that are common on the rougher roads. Of course, if you're going long distances (on your own or even on a supported ride) you'll need to carry extra water, food, tools and clothing. Many gravel bikes have a plethora of mounting points to fasten
We have many bikes that are designed specifically for gravel riding or that are quite at home on gravel, like the Specialized Crux Evo or their new Sequoia. From Felt we have the VR and FX series bikes and Jamis has their Renegade series bikes. Another option is to adapt a traditional touring bike, such as the Specialized AWOL, by putting on wider tires with more tread.
And if you want to give it a try with a bike you already own, many bikes can be adapted for gravel riding with new tires and maybe a new suspension seatpost, especially if you have a dual sport bike like the Specialized Crosstrail or Ariel. If you have a mountain bike, they work fine on gravel, especially if you are riding by yourself or with other folks who are also on mountain bikes. The weight, bulky tires and seating position found on most mountain bikes make them inherently less efficient and slower. Thus, if you are using your mountain bike to try and ride with folks on true gravel bikes, you will find yourself at a significant disadvantage.
Are you intrigued with gravel grinding yet? To get started, come by and talk to Dave or Ben about what it takes to get started and where to go