As part of bike month, the Bike Month Committee has organized a variety of family-friendly events for riders of all levels. You can find a description of each event below. All events are free unless otherwise listed.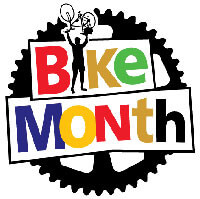 If you have any questions, contact Bicycle Coordinator Joey Lightner at lightner@cityofmhk.com. The full list can be found at the Bike Month website.
City Proclamation
Manhattan Mayor Wynn Butler will officially proclaim May 2014 as MHK's Bike Month. The public is encouraged to come to the Bike Month Proclamation at 7 p.m. Tuesday, May 20 during the City Commission meeting at City Hall, 1101 Poyntz Ave.

Commuter's Challenge
How much can your organization bike? All businesses, university departments and other organizations are invited to rise to the challenge during the month of May to see who can bike and/or walk the most. Prizes and recognition will be awarded to the group with the most trips per participant. Winners will be announced at the end of the month Bike Month Celebration (more details below). Participants can sign up by emailing Joey Lightner. Miles and trips will be at the Bike Month website.

Bike to Work with Varsity Donuts
Every Monday during the month of May, from 6 to 9 a.m., you can receive a free drink with the purchase of a donut for biking to work and/or school. Since we encourage safe riding practices, you must present your helmet to be eligible.

Bike to the Brewery
What could be better than biking and learning how beer is being made? Meet at 1 p.m. Saturday, May 10, at Blue Earth Plaza to bike to Tallgrass Brewery and take a tour of the facility. After spending some time at the brewery, we will safely bike back to Blue Earth Plaza.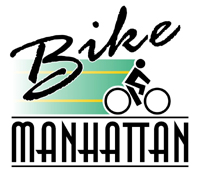 Bicycle Advisory Committee Meeting
The Bicycle Advisory Committee will meet at 9 a.m. Friday, May 16 at the Manhattan Traffic Operations Facility, 515 S. 11th St. This is a monthly meeting. Everyone is encouraged to come and discuss various bike and pedestrian initiatives within the city.

Ladies Purple Pedal Power
Attention ladies — this ride is for you. Join your girlfriends at 6 p.m. Tuesday, May 20, for a fun ride and girls night out. The ride will start at Hibachi Hut, 429 Poyntz Ave., and ride around to multiple destinations around town. Don't worry — this is an easy ride. If you're looking for a good workout, join a few experienced bikers at 5 p.m. behind The Pathfinder, 304 Poyntz Ave., for a longer ride. There will be snacks and libations at every destination.

In order to help us prepare and plan accordingly, please pre-register by emailing Joey Lightner. Pre-registration is not required, but encouraged.

Designed for riders of all levels.

Mayor's Ride
The Mayor's Ride will take place at 9 a.m. Saturday, May 24. Participants will meet at Blue Earth Plaza. Individuals will then accompany Mayor Butler and City Commissioners for an easy-paced, leisurely ride around Manhattan. Light refreshments from Varsity Donuts will be served.

Designed for riders of all levels and safe for children.

Progressive Dinner and Bike Month Celebration
Bikers Unite! A Bike Month party for anyone who loves to ride will be at 6 p.m. on Friday, May 30. This will be a progressive dinner format in which we ride from destination to destination to eat some food and enjoy great conversation with cool people. Refreshments will be provided at each stop by local businesses. Meet across from Varsity Donuts at Triangle Park in Aggieville. Parking is available across Anderson on the KSU campus.

It's going to be a great evening with the wonderful bicycling community in MHK.

Winners of the Commuter Challenge will be announced, and prizes will be distributed, so you won't want to miss it.

Designed for riders of all levels and safe for children.