Now that spring has come, it's time to get your bike out of the garage and enjoy the warmer weather. We recommend that you look over your bicycle to make sure it's in safe and effective working order before you get out on the road. What should you look for? Here's our best advice: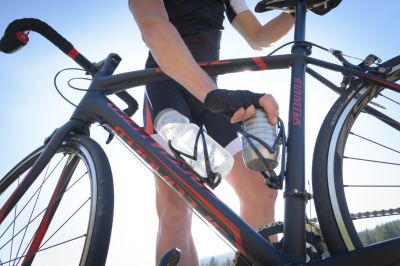 INSPECT IT
Examine all of the cables and housing on your bike. Check for fraying, rust and kinks on the cables, including the brake cables inside the levers. Cables showing any of these problems should be replaced.
Inspect the housing for cracks and rust, including looking at the ends where they go into the housing stops or cable adjusters. Again, any sign of problems should lead to replacement. Modern shifting and braking systems are heavily dependent upon cables moving with a minimum of friction.
Good "slick" cables with good quality housing start at about $5. Note that shifting and braking systems use different cables and housing from each other.
Spin the wheels to make sure they run straight and round, and inflate your tires to check for cuts, cracks and bulges.
Finish your inspection by looking for loose or broken spokes, dirty or rusty chains and sprockets, loose bearings, and loose connections.
Chains can be a significant problem, and it's hard for individuals to check chain wear and stretch, so this may be one area where your best bet is to get help from our mechanics.
CLEAN IT
In the spring, our mechanics spend a lot of time just cleaning bikes before they can fix them. Dirty cables, sprockets, derailleurs and chains cause many of the shifting problems riders experience. Likewise, dirty braking systems significantly affect stopping power.
Cleaning your bike, while a little messy, is not hard. Get a good quality degreaser, a cleaning brush, some rags and old clothes, and get to work.
Spray or brush the degreaser into all dirty parts, staying away from bearings in the wheels, crank and headset, and scrub, scrub, scrub! Rinse the bike with water when you're done, again staying away from the bearings.
Lube all cables, pivot points and the chain as soon as everything is dry. For a clean chain we recommend a wax-style lubricant, such as ProLink. For pivot points use TriFlow, in minimal amounts, and wipe off the excess.
There are several products available to aid you in cleaning your bike. Specifically designed cleaners, brushes, chain scrubbers and lubricants from companies such as Park, Pedro's and Finish Line will make the job easier and neater.
If this all sounds like more than you want to tackle, we're happy to do the dirty work for you. A spring tune-up with a good cleaning will start at around $45 plus parts, depending on what kind of shape the bike is in.