Books and Maps | Trekking Poles | Camp Chairs | Acorn Slippers | Gifts
Books and Maps
Come browse our books and maps on our mezzanine level. We keep a wide variety of guide books for the Rocky Mountain region as well as local areas and other favorite outdoor destinations. You'll also find some helpful how-to books and reference guides on everything from dutch oven cooking to bike repair to bird identification. On our list of "must-have" items are the DeLorme state atlases , with detailed topographic maps covering the entire state. In the map case we keep all of the Colorado National Geographic trail map as well as many national parks, national forests, and detailed maps of local areas.
Trekking Poles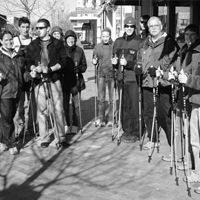 Adding a good pair of trekking poles to your trail adventures can make a huge difference. You'll have better balance, better posture, and the poles can be useful at camp, too. We also carry Nordic walking poles to use for fitness walking, which can greatly increase your cardiovascular workout. Ask to test-drive a pair of our demo Nordic walking poles!
Camp Chairs
From the lightweight, foldable camp tripod stool to the amazing folding Pico chair, we have some of the best camp chairs around. They are small (not bulky) but comfortable, and sturdy. We also have gear that can make your sleeping pad into a camp chair. So handy!
LOGOS: GCI Outdoor (live link), Thermarest (live link)
Acorn Slippers
Yes, we know that slippers aren't technically "outdoors" items. But we love them! We have carried Acorn slippers for many years, and have both Acorn slippers and their fleece socks for both adults and kids.

Gifts
If you're looking for a gift for an "outdoorsy" person, we have lots of options to choose from. Heartwood Boxes are beautiful hand-made in the USA. Brazos walking sticks are classic and useful too. At the holidays we have Christmas ornaments themed for the camper, bicyclist, or paddler on your list. We have great camera bags (including backpacks) for outdoors photographers. In the spring we carry colorful, fun kites of many sizes. And we ALWAYS have gift certificates, which you can buy in any amount you like.