Camping can mean many things to many different campers – from camping along the river on a fishing trip to Colorado to camping at Tuttle over the weekend. We specialize in lightweight, high quality gear that can double as backpacking or car camping gear. Our focus is on gear and clothing that will perform in all weather conditions for many years to come, so that you can enjoy the outdoors.
Packs | Tents | Sleeping Bags | Camp Kitchen | Tools, Lights & Gadgets | Health & Safety | Gear Repair | Hydration
Packs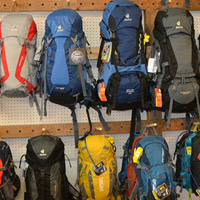 We carry a broad variety of packs to carry your gear, including multi-day trip packs (in a variety of sizes and designs), hydration packs (with a water reservoir and hose included), daypacks (for trails or for computer/book use) and lumbar packs (aka fanny packs). We have some great heavy-duty duffel bags that make perfect camping luggage – they stand up to all conditions and keep your clothing and gear protected.
Tents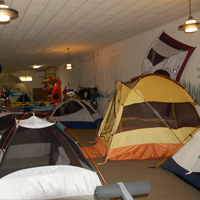 Have you been to our tent room? The top floor of The Pathfinder is where you'll find the tents we have in stock – we are happy to have enough space to have them set up for you to take a look. This will allow you to decide whether that "2-person" tent actually has enough floor space the two people who will be sleeping there, as well as to compare headroom, ventilation, and design of the tents you're considering. And our staff can show you how to take down and set up your tent before you have to do it on your own out on the trail.

Sleeping Bags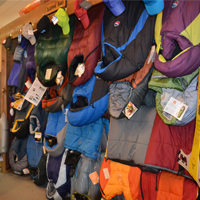 Your sleeping bag needs will vary significantly based on what you're doing – from summer camping here in Kansas to multi-season camping at high altitudes. We carry sleeping bags to cover this range as well, including lightweight, versatile bags for warm weather use and top-quality down bags for extreme weather conditions. All of our sleeping bags are very compressible and light, and come with their own stuff sack. Sleeping bags perform better when paired with a quality sleeping pad, and we also carry a variety of sleeping pads, including self-inflating pads.
Camp Kitchen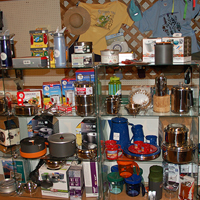 Our selection of backpacking stoves covers both liquid fuel stoves and canister fuel stoves, and our staff would be happy to talk you through the advantages and disadvantages of both stove styles. We can also help you find the best cooking gear for you, including cooking pots, fry pans, dutch ovens, tea kettles, coffee presses and a variety of plates/mugs/utensils and mess kits. And we have freeze-dried meals and snacks, many of which we have tested ourselves.
Tools, Lights & Gadgets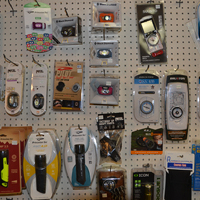 A successful trip on the trail means equipping yourself with key tools for your needs. Pocketknives, headlamps, paracord, compasses, lanterns… we work hard to keep a variety of these critical items available for you. Of course, we know that several of these trail tools are also handy off the trail too – how many uses can you think of for a good Leatherman's tool or headlamp?
Health & Safety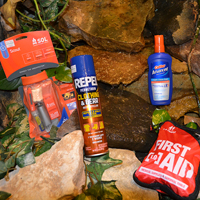 When you're out on the trail, having the right gear with you can make the difference between a safe, comfortable excursion and real trouble. We can help you prepare for basic daily needs with biodegradable soap, a sun shower and a trowel, and also give you options for protecting yourself from insects and sun. We have several first aid kit options and blister protection as well.
Gear Repair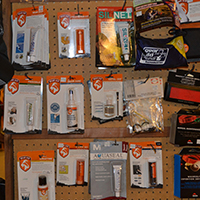 Broken tent poles? Rip in your jacket? Leaking boots? Check out our gear repair & maintenance section, with supplies to keep your gear functioning at its best. From down sleeping bags to Gore-Tex jackets, proper maintenance & cleaning can extend the life of your best gear. We also carry webbing, cord and buckles to replace worn-out parts, and we have repair kits for on-the-trail use. In today's "throw-it-away" world, we believe that high quality products can last for many years if cared for correctly.
Hydration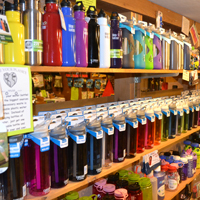 Safe, plentiful drinking water may be the most important part of your outdoor adventure. We have a variety of water purification options, whether you're using murky water out of a lake or uncertain about the tap water during international travel. Once the water is clean, how will you store it? Carry it on your back with a hydration pack or in a water bottle – we have over ?? different styles of water bottles to choose from, including insulated stainless steel, bike bottles, and kids' bottles.