Kayaking and canoeing are both great ways to enjoy the outdoors, and we are happy to support the needs of local paddlers
Boats | Boat Accessories | Car Racks
Boats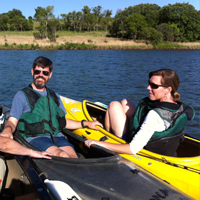 Head up to our third floor to see which canoes, kayaks, and stand up paddle boards we have in stock. North-central Kansas offers many great opportunities for paddling, and we carry several styles of kayaks, paddle boards, and canoes ideal for recreational paddling on small county lakes or down public river sections.
Boat Accessories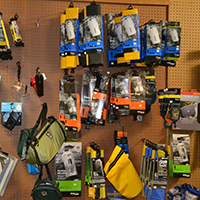 Your day out on the water will be greatly improved with the right accessories. Start with a good paddle and PFD (Personal Flotation Device). Protect your gear with dry bags – we carry a variety of sizes and materials. Protect yourself with sun-blocking clothing and hats. Then add goodies like a kayak compass, a strap-on hydration pack and a waterproof iPhone case.
Car Racks
Transporting your kayak or canoe is made easier with a good rack system, such as those made by Thule and Yakima. We will work with you to use the Fit List from either company to determine what you need to fit your specific vehicle. We keep some of the standard rack systems in stock, and can order whatever you need. If a full roof rack system is more than you want, we also keep straps and foam blocks to carry your boat directly on your vehicle.