We know that a rugged adventure in the mountains isn't everyone's idea of an ideal vacation – that's why we have our Travel section. We help college students get a travel backpack and security wallet for their hostel adventure in Europe. We help families find sandals, rainwear and quick-dry clothing for their rainforest adventure in Central America. We help grandparents select comfortable shoes & socks, emergency ponchos and a fanny pack for their trip to DisneyWorld with their grandchildren. Wherever your travels take you, we have travel gear to make it easier.
Luggage | Travel Accessories & Clothing | Car Racks
Luggage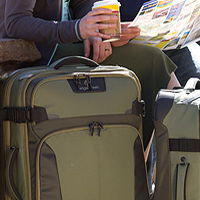 Whether you're backpacking across Europe or spending weekends in New York, we have luggage that will meet your travel needs. Adventure travelers prefer a backpack, and some of the best include a zip-off daypack and hideaway shoulder straps. More urban travelers want wheeled suitcases that will fit as a carry-on to avoid checked bag fees. Some of our luggage actually has wheels and shoulder straps! And we also offer some travel-specific messenger bags, computer/tablet bags and purses, many with security features such as slashproof straps and RFID-blocking sleeves. But perhaps our most popular luggage pieces are the packing cubes and folders that will help you keep your clothing organized and cut down on wrinkles.
Travel Accessories & Clothing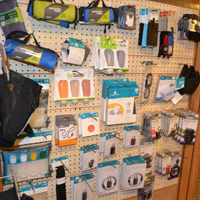 Travel gear is designed to be lightweight, versatile, and accessible. We have a large variety of wallets, including security wallets to wear under your clothing, ultralight wallets that are super thin, and wallets with other great features. Don't forget TSA-compatible luggage locks, power adapters and luggage tags. Travel in comfort with travel pillows, eye shades and ear plugs. And then there are the items that will help you cut down on weight and bulk – small bottles for toiletries, microfiber towels, compression bags, toiletry kits. Of course, the best way to travel light is to pack lightweight, quick-dry clothing – we carry lots of clothing that fits this description, including some that is specifically designed for travel with stain- and wrinkle-resistant fabrics.
Car Racks
We have been helping customers outfit their vehicles with roof racks for many years, and can help you figure out what system will work best for your vehicle and your carrying needs. Do you need to carry downhill skis in the winter and bikes in the summer? A kayak and a luggage box? These options can all be possible with a roofrack system from either Yakima or Thule. Both companies have a detailed Fit List that will allow us to find what parts we need for your specific vehicle. We also have a luggage box as a rental.